OKAMI BANDS
DIR EN GREY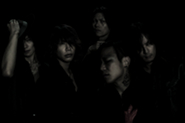 Meet DIR EN GREY. Since 1997, the Osaka quartet's songs of pain, human suffering, anger, frustration and alienation have seen them identify with the youth of Japan and become the forerunners of the Japanese rock scene. Within seven months of forming the band had a top ten single, within a year had sold out a 12,000 capacity venue, and by 1999 had three singles simulteanously in the top 10 – and it's only gotten better for them since. But like any ambitious band, they are not content with just being big in their home country.
lynch.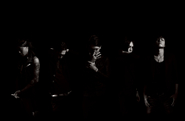 Among many J-Rock bands from Japan there is one band that breaks away with varied music stylistics and unique song writing: lynch. Founded in 2004 by vocalist Hazuki, lynch. started their career early with the release of their first album in 2005, along with their first live activities. Rising popularity and concerts with heavyweights like Sadie and girugämesh lead to their second album release in 2007 along with even bigger concerts…
sukekiyo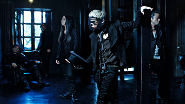 DIR EN GREY vocalist kyo set up a tremendous line-up to give birth to his solo project: sukekiyo. Formed in 2013, sukekiyo members are kyo (DIR EN GREY), TAKUMI (ex-RENTRER EN SOI), UTA (ex-9GOATS BLACK OUT), YUCHI (kannivalism) and MIKA (ex-RENTRER EN SOI). Expectations have been huge right from the start, but sukekiyo did not fail to meet those and even surpasses them. kyo's unique style is omnipresent in every single note which leads to a distracted, dark and vivid sound.
THE MADCAP LAUGHS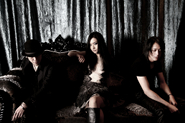 THE MADCAP LAUGHS is a Japanese Rock band formed in Tokyo in 2012. Founded in May 2012 by a drummer sakura (from ZIGZO), vocalist/guitarist aie (from the god and death stars/ex:the studs) and vocalist/bassist kiyoshi (from Juichi Morishige(ZIGGY)).
FEAR FROM THE HATE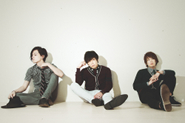 FEAR FROM THE HATE are Yoshiyuki Kojima, Kouichi Kawahara and Sohei Murakami who are ready to conquer the world with their unique, Tokyo based version of Metalcore. Founded in 2008, FEAR FROM THE HATE can already look back onto various releases…
Muddy Apes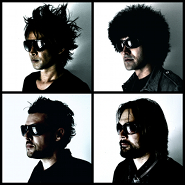 Muddy Apes who made a striking debut with the album "Crush It" are ready to release their second shot, called "Fairy Dirt No. 5". MASON (8otto), INORAN (LUNA SEA), TAKA HIROSE (FEEDER) and DEAN TIDEY (FEEDER) gathered again in Tampa, Florida with session drummer RYO YAMAGATA to record another fine piece of modern Rock-music.
POLYSICS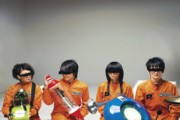 POLYSICS was formed in 1997 by band leader Hayashi, they have spent the last 10 years spreading their unique audio visual experience all over the world. Named after Hayashi's first keyboard (the Korg Polysics), POLYSCIS mix harsh guitars with synthesizers and vocoder vocals, creating a sound that is bound to appeal to fans of cult rockers such as DEVO or THE TUBES.
ASIAN KUNG FU GENERATION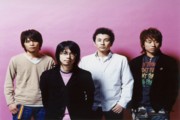 ASIAN KUNG-FU GENERATION is a band that knows the meaning of hard work. Through tireless touring and recording, combined with their incredible musical talent, they have earned legions of fans and a huge amount of critical respect. In less than a decade, they have risen to become Japan's most popular alternative rock band.
GUITAR WOLF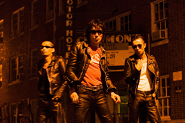 The Japanese underground trash rock trio GUITAR WOLF was founded in 1987. GUITAR WOLF has reached a cult status like no other japanese band before. At the time the band formed, Seiji (guitar) and Billy (bass) were working in Harajuku, which is to Tokyo like Canaby Street is to London.